EMTEX STUDIO is specialized in audio post production.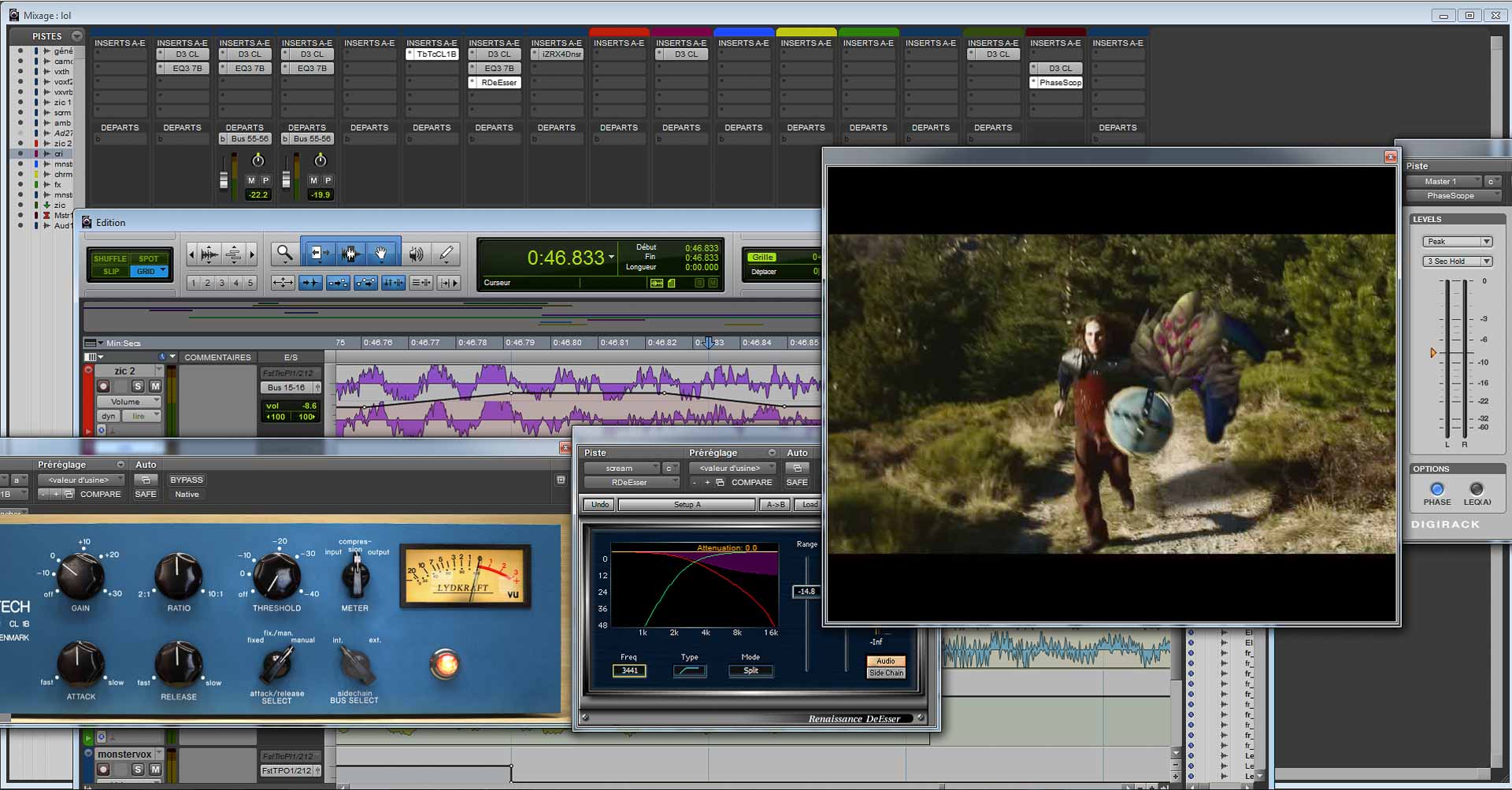 We offer services in the following fields:
• Audio Editing
• Mix
• Audio mastering
• Sound Design and creation
• Audio restoration (archives or bad takes)
EMTEX STUDIO has an international reputation for its audio postproduction services.
Whether the jobs are for theater, television, web, music production or other physical mediums, EMTEX STUDIO lets you benefit for reasonable fares of its experience in audio production to deliver you a master adapted to the broadcast's needs.
In terms of TV mastering, EMTEX STUDIO can deliver for international projects an audio master which complies with these loudness standards:
EBU R128 (Europe)
ATSC A/85 (USA)
TR-B32 (Japan)
OP-59 (Australia)
Equipment used on audio post-production services:
– Pro tools 10 and 11 digital audio workstations.
– RME Fireface 802 audio interface (60 I/O).
– Multiple studio environment monitoring to check mix in different conditions.
– Beyerdynamic DT 770 pro 250 ohms headphones.
– Rack effects and multiple pre-amplifiers (RME, SQN, SPL…).
– PC Windows 7 pro 64 bits, CPU i7 4hearts @ 4.8 GHz, RAM: 16Go 1TO SSD, 9TO HDD, Nvidia GeForce GTX 550 Ti graphic card.
Some of our audio postproduction works:
Recording and audio mix of the French national orchestra of Montpellier, directed by Nicolas André. Montpellier, FRANCE – 2014
Voice over recording, sound design, mix and mastering of a corporate film for Polytech Montpellier engineering school, an ARTCAM production.
Mix, audio mastering, ATSC A/85 complience and web master of a PSA video "Does it Make Sense to Curtail Immigration?" for PFIR non-profit organization. KLL VIDEO PRODUCTIONS Los Angeles, USA -2015
Voice over recording, sound design, mix and mastering of an advertisement for Whisper sanitary towels. Directed by Etienne Boulé.
Mix, audio mastering, ATSC A/85 complience and web master of a PSA video " Ecosystem Overload" for PFIR non-profit organization. KLL VIDEO PRODUCTIONS Los Angeles, USA -2015
Mix and EBU R128 Mastering of a promotional film for "Carn to Cove" (Cornwall's performing arts scheme for rural communities)
Directed by Mathilde JOVANOVIC, produced by Tim SMITHIES. Cornwall, U.K. – 2014